A new sport has hit mountain towns across the globe, but none as much as those in the Western U.S. You've probably heard of stand-up paddleboarding or SUP, a popular ocean activity, but in fact, stand-up paddleboarding is also a great way to experience mountain lakes and rivers. If you're thinking of heading to the mountains for a summer escape, don't miss this exhilarating aquatic experience. Here's a first-timers' guide to stand-up paddleboarding, including top SUP destinations.
Take a lesson
For quick success and an increased likeliness that you'll enjoy your first time on a stand-up paddleboard on a river or lake, you'll want to take a lesson. Stand-up paddleboarding, especially on a river, requires a lot more than just paddling around. You'll need to understand how to maneuver around obstacles with the paddle and utilize your body weight to help guide the board in the direction you want to go. If you've SUP-ed on the ocean before or have kayaking or canoeing experience, you may only need a half-day lesson to nail down the basics.
In addition to providing safety instruction, Aspen Kayak & SUP owner and river SUP pioneer Charlie MacArthur po
ints out that a lesson includes paddleboard and paddle selection to match your size and ability level. "You don't want something that's too big or too short," says MacArthur. For beginners, a longer and wider board is recommended. The more surface area the easier it is stand up. Shorter and narrower boards will be more nimble around obstacles and faster, but also more challenging to stay upright. Additionally, MacArthur also notes that instructors will make sure your board is properly inflated.
Top SUPing destinations
Mountain lakes and rivers provide great fun when on a paddleboard, but they very different experiences. First timers may prefer the more tranquil lake waters before embarking on a river excursion. However, if you're new to the sport and have a sense of adventure, don't rule out rivers. There are plenty of gentle, Class I and II sections of river that offer ideal conditions for learning to SUP. Plus, if you're with an instructor you won't be exposed to anything above your head.
Top mountain lakes for SUPing
Lake Tahoe, California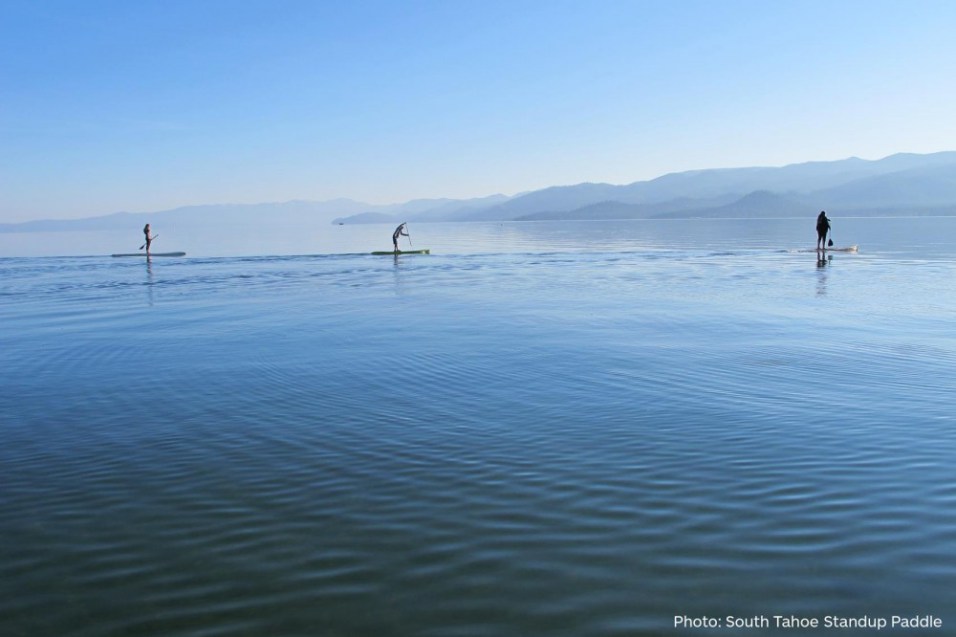 As one of the West's most spectacular mountain lakes, South Lake Tahoe's El Dorado Beach provides a top setting for learning to stand-up paddleboard. Board rentals are on hand at El Dorado, and the shallow waters along the beach provide a gradual introduction to the sport. Situated near Heavenly's top accommodations and attractions, El Dorado Beach is top-of-mind choice for the first-time lake SUPer who wants modern conveniences.
Lake Dillon, Dillon, Colorado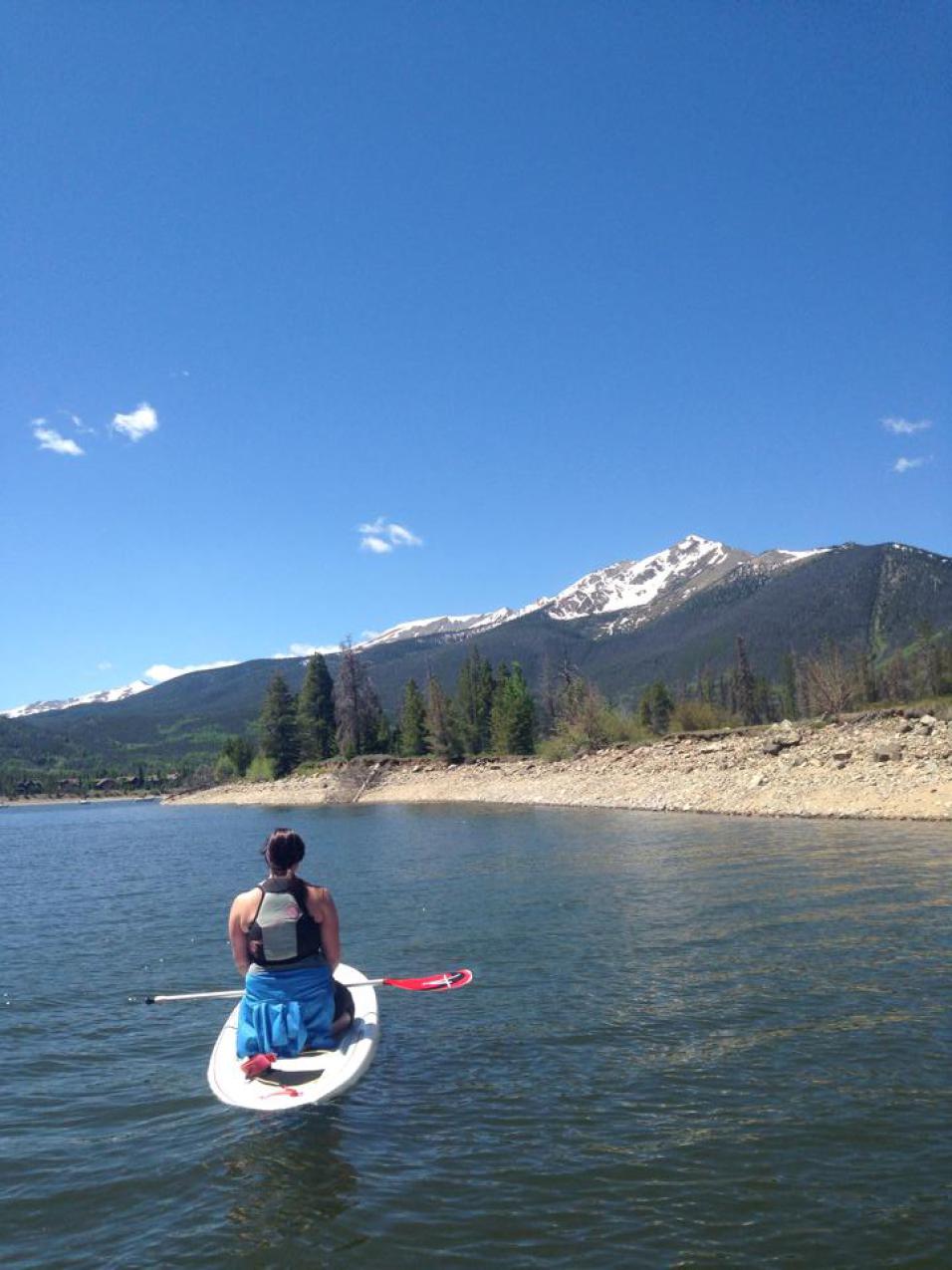 Boasting nearly 30 miles of shoreline and a host of watersports outfitters, Lake Dillon provides never evers with easy access and what seems like an endless amount to explore. Lake Dillon is visible from I-70 and convenient to Breckenridge, Keystone, Copper Mountain, Frisco, Dillon and Silverthorne.
Convict Lake, Mammoth Lakes, CA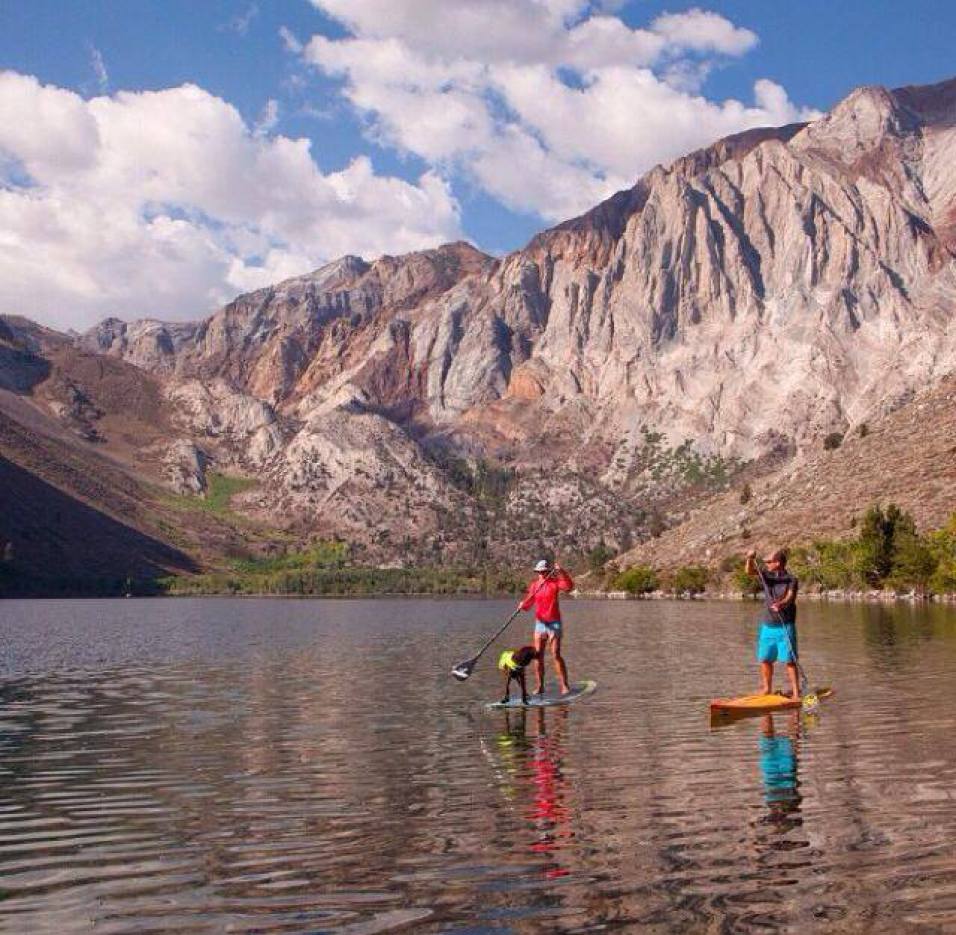 Convict Lake may be a bit more off the beaten path than some other mountain lakes, but it offers spectacular views deep in the Sherwin Range of the Sierra Nevadas. Most notably, paddlers will enjoy stunning views of Mount Morrison, the peak that rises above Convict Lake. Convict Lake is situated about 10 miles from Mammoth Mountain, making it possible to enjoy world-class accommodations while you embark on your aquatic adventures.
Grand Lake, Granby, CO
Grand Lake is Colorado's largest natural body of water and provides paddlers with an incredible venue for lake SUPing. Featuring plenty public marinas as well as outfitters providing lessons and rentals, Grand Lake makes learning to SUP a cinch. While you're in the area, add on a trip to nearby Winter Park, where you can enjoy some of Colorado's best lift-served mountain biking or even explore the stunning Rocky Mountain National Park.
String Lake, Jackson Hole, WY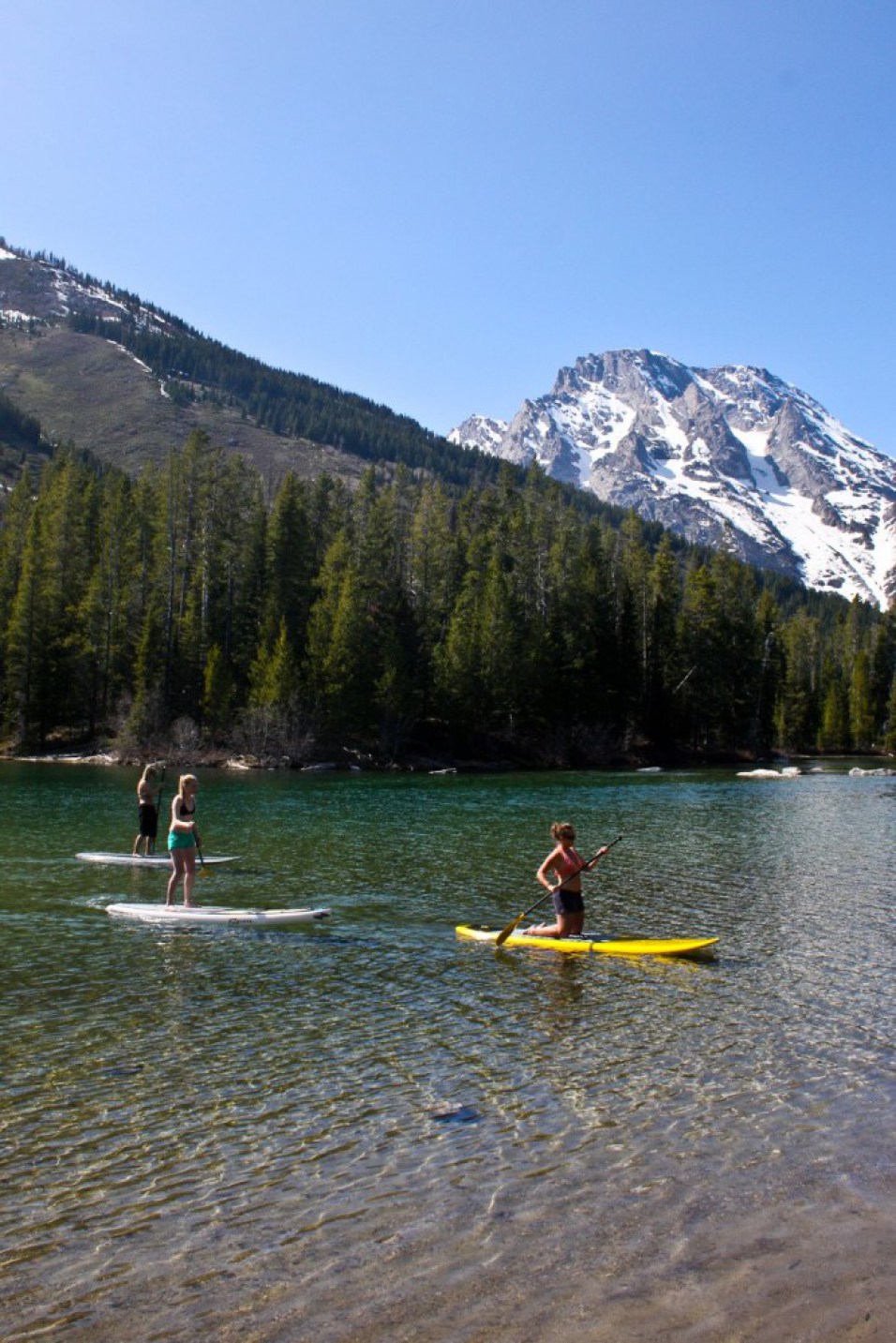 Providing epic views of the Tetons, String Lake is situated in Teton National Park about 25 miles from downtown Jackson and 20 miles from Jackson Hole Mountain Resort's Teton Village. It's easy to arrange for lessons and rentals thanks to a host of local outfitters in the Jackson area.
Blue Mesa Reservoir, Gunnison, CO
As Colorado's largest man-made body of water Blue Mesa Reservoir is also an excellent venue for lake SUPing. Located about 45 minutes from Crested Butte, Blue Mesa Reservoir offers an astounding and scenic 96 miles of shoreline to explore.
Top mountain rivers for stand up paddle boarding
Glenwood Whitewater Park, Glenwood Springs, CO
Glenwood Springs is a long-time venue for river sports enthusiasts, since it's the meeting point of the Roaring Fork and Colorado Rivers. Glenwood Whitewater Park provides plenty of calm sections where beginners can practice their skills. Plus, you can watch the pros hang ten on the "Wave." Rentals and full- or half-day lessons are available.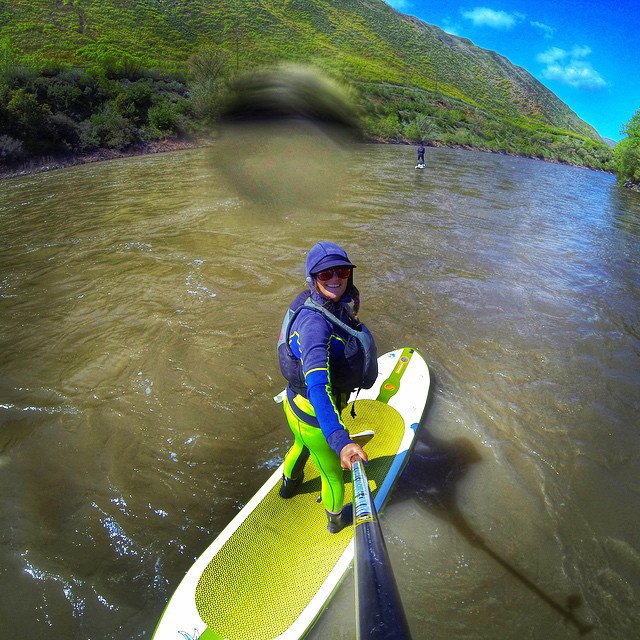 North Star Preserve, Aspen, CO
Experience a pristine natural environment when stand up paddle boarding through Aspen's North Star Preserve. Situated just a mile east of town, this protected area home to migrating elk, bear, deer and a variety of bird species, including blue heron, whose large nests can be seen in the treetops. You'll feel like you're in a Rocky Mountain safari when SUPing through the North Star Preserve.
A lesson with local outfitter and guiding service Aspen Kayak & SUP is recommended, and if you're a summer guest at the
Limelight Hotel
it's a free activity.
Ruby-Horsethief, Loma, CO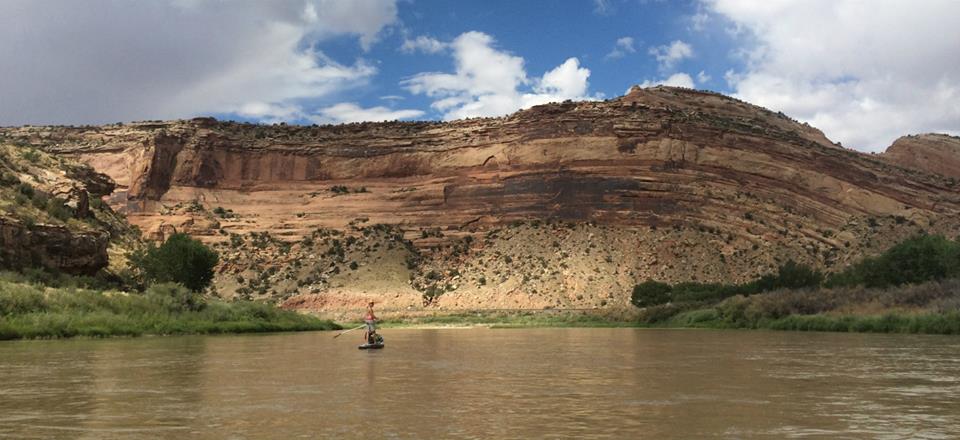 For an overnight SUP adventure hire a guide service to take you on the popular 25-mile Ruby-Horsethief stretch of the Colorado River. Ruby-Horsethief provides gentle Class I and II conditions for beginners and stunning desert canyon views. The trip starts from Loma, Colorado, which is just 25 minutes outside of Grand Junction, and ends in Westwater, Utah. Permits are required.
SUP Necessities
When heading out on your first lesson, you don't need to worry about the basics, i.e. a paddle board, a paddle, a PFD (personal flotation device), helmet and a wet suit (depending on the weather and water temperature). The outfitter will provide those items, but there are plenty of other must-have items, such as:
Sunscreen
Sunglasses with a strap, a.k.a. "Croakies"
Hat that you can attach to your self
Water bottle that you can attach to your board
Waterproof camera
A dry bag to hold items like your sunscreen, camera and water bottle
Water shoes or Chaco or Teva-like sandals