Investment in lift-served mountain biking parks is catching fire at mountain resorts, and downhill mountain biking is quickly becoming a highly sought-after summer activity. To help you cut to the chase, we compiled a list of North America's top mountain bike parks, along with their 2016 opening dates.
Whistler Blackcomb Bike Park
Opening date: Friday, May 20
Closing date: Monday, October 10

Photo: Mark Mackay Photography
Boasting one of the world's best and biggest, Whistler Bike Park downhill trails descend for 5,000 feet and offer every level of biker perfect terrain. Plus, Whistler-based trail-design company, Gravity Logic, has received international acclaim, so you're guaranteed the best of the best when it comes to trail conditions and features for all levels. Whistler is also a mecca for mountain biking events, as the resort hosts a ton of competitions and feativals, including the weekly "Phat Wednesdays" competitions series and Crankworx Freeride Mountain Bike Festival, August 10–21, 2016.
Winter Park Trestle Bike Park
Opening date: June 11
Closing date: September 25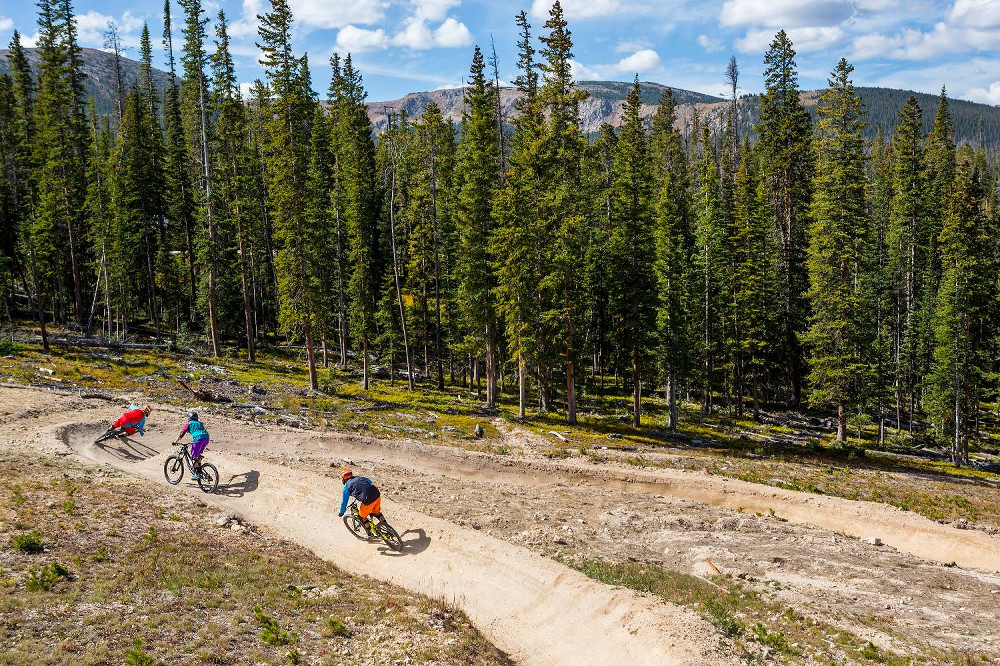 Photo: Trestle Bike Park
Renowned for its technical downhill trails and vast trail system which has offerings for all levels, Winter Park's Trestle Bike Park is a popular spot for international bikers and local Denver bikers alike. But it's not just great for experts, Trestle has a great skills park to learn the basics and a squadron of adept instructors on hand. Don't miss the Colorado Freeride Festival on July 28-31, 2016.
Snowmass Bike Park
Opening date: June 24
Closing date: September 5, but will remain open for the following weekends: September 10–11, 17–18, 24–25 and October 1–2

Photo: Seth Beckton
Snowmass Bike Park provides a topnotch downhill biking experience for families, beginners and intermediates, and also offers the initiated a couple of challenging rides. Plus, Snowmass Bike Park still enjoys smaller crowds in comparison to others. Snowmass has two advanced trails, Valhalla and Vapor. Valhalla features tons of buffed-out berns, a wall-ride and mostly small to medium jumps. Vapor is a more rugged, rocky experience, but the mountaintop vista is unbeatable and makes it all worth it. New this season, Snowmass is the only U.S. stop in the Enduro Wold Series, held on July 28-31, 2016. Families and less-seasoned downhill bikers will love the gentle, flowy Verde, Espresso and Easy Rider. Beginners can "skills" park at the mid-way point off of Elk Camp Gondola. Cross-country bikers also enjoy access to their stripe of trails, including the Sky Mountain Park trail system, Rim Trail, Tom Blake and Government trail, which runs into Buttermilk resort.
Crested Butte Evolution Bike Park
Opening date: June 11
Closing date: September 5, but will remain open for the following weekends: September 10–11, 17–18, 24–25 and October 1–2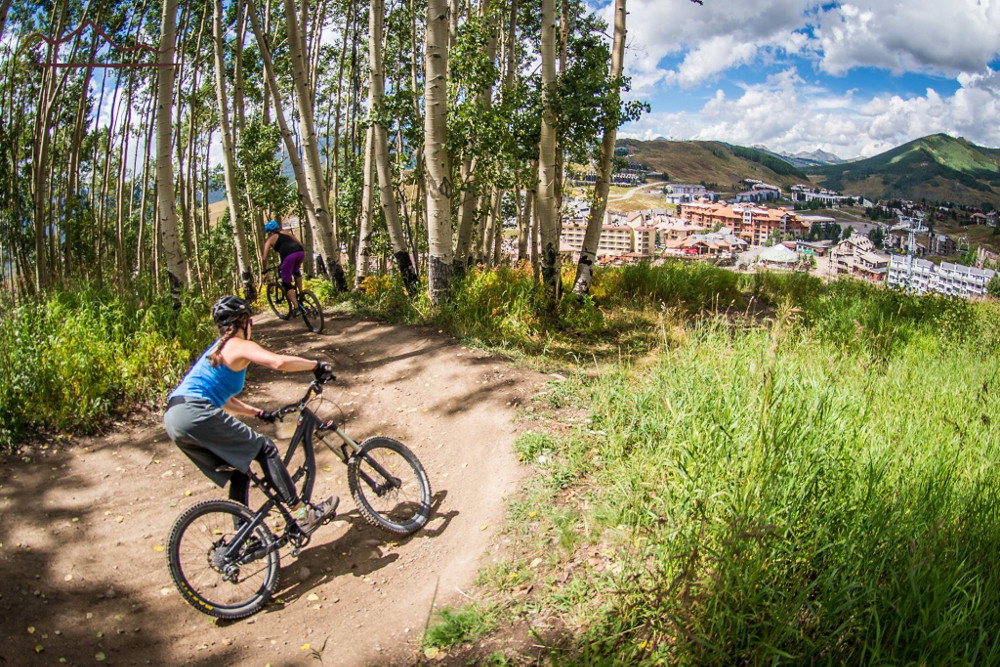 Photo: Trent Bona
Evolution Park features seven downhill trails ranging from easy to expert and another seven cross-country and all-mountain trails. A mecca for diehard biking enthusiasts, Crested Butte is home of the U.S.' oldest bike festival, Bike Week, which will be celebrated on June 23–26, 2016. Bike Week is hailed as America's oldest bike festival, and includes all sorts of bike races and events (from pro-class to pure fun), brews, parties and music. If you can't make it for Bike Week, fret not. Crested Butte is one of mountain biking's birthplaces, so there's always some sort of biking event going on.
Editor's Note: We recommend that all downhill bikers wear all the appropriate protective gear (full-face helmet, knee/elbow guards, back/neck/chest protection). All of the resorts listed offer instructional lessons for every ability level, and are also recommended for beginners.