Summer in the Alps is spectacular. Every type of Alpine adventure is within reach. Whether you want to experience a classic mountain trek, explore historic castles, mountain bike among iconic peaks or relax next to an Alpine lake, it's all possible and it's all doable in one summer vacation if your heart desires. To help you sift through the many options, we comprised a list of the most popular summer Alpine adventures.
Surmount Alpine summer hikes + treks
Great Saint Bernard Pass
Considered one of the most treacherous passed in Europe and used by armies, tribes, pilgrims and merchants on their way to Rome since the Bronze Age, the Saint Bernard Pass connects Italy and Switzerland and is one of the most beautiful hikes in the world. The pass and the beloved slobbery dogs, both lend their name from an 11th Century saint who established a hospice for travelers set out on this ancient Alpine adventure.
A popular option is to fly into Geneva and take a train along Lake Geneva to Martigny, where the 10-day route begins. For the first couple of days, hikers march amidst the vineyards of the Valais and then to the Val de Bagnes, where the famous Hérens cows reign, cultivating their fragrant rustic cheese in the lush, green Alpine pastures. From there, you'll hike to the Orny Glacier and enjoy breathtaking views of Mont Blanc. Even in the most remote, high-elevation parts of the pass, portions of the ancient Roman road still exist. You're truly walking in the footsteps of Caesar, Charlemagne and Napolean. A stop at the famous St. Bernard monastery is in order, too. The route ends in the beautiful Gran Paradiso National Park, Gressoney-La-Trinité, one of the centers of German Walser culture.
Grand Balconata sul Cervino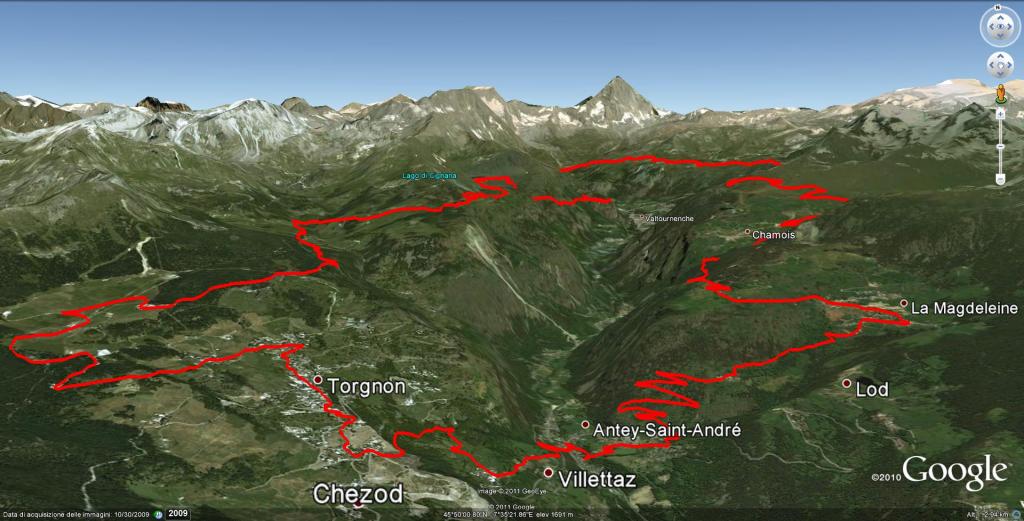 This four-day hike provides stunning views of the Matterhorn from the Italian vantage. Starting and ending in Antey-Saint-André, hikers will ascend to 2,169 meters at Lake Cignana above Brueil Cervinia. This trek is ideal for the less initiated hiker who still wants a piece of authentic Alpine adventure. Each night is spent in the comfort of a hotel in the villages of Chamois, Brueil Cervinia and Torgnon.
Haute Route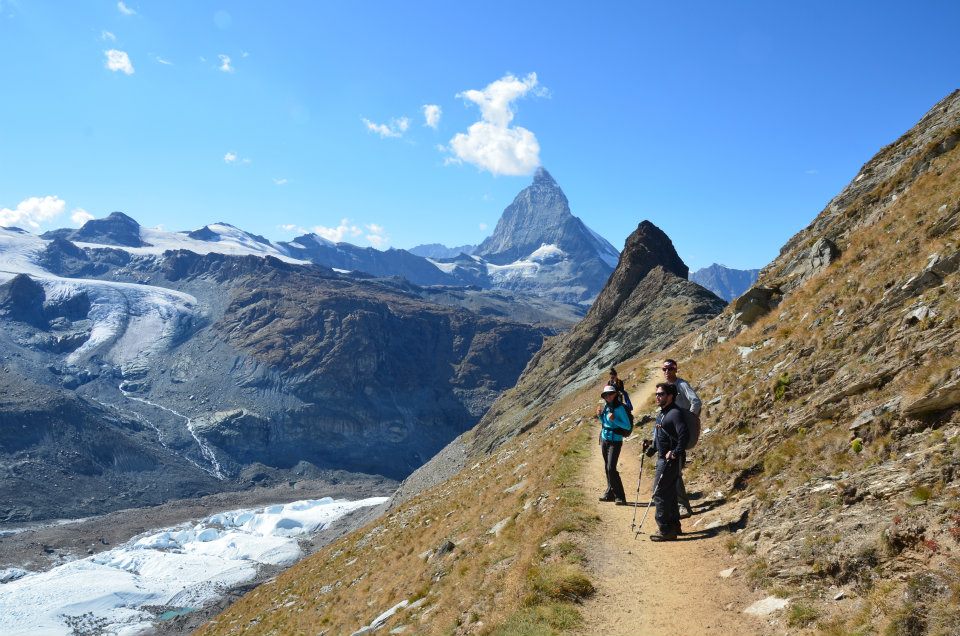 This 10- to 12-day trek is from Chamonix, France to Zermatt, Switzerland over high-Alpine passes rising as high as 9,800 feet. Hikers should be in good physical condition, as the route is strenuous, but the scenery is worth the challenge. The route winds among glaciers and meanders through lush valleys and colorful wildflower meadows. Mountain huts and refuges are available along the way and advance bed reservations are recommended, especially when travelling during the high season mid-July to mid-August. It's also possible to rest, refuel and shower and village hotels along the way. The Haute Route is considered remote, so a guide is recommended.
In the footsteps of Heidi – Maienfeld, Switzerland
Ideal for families, the Heidi hiking trails takes trekkers through key places in the Maienfeld area of Switzerland that inspired Johanna Spyri to write her novels about Heidi, the orphan girl. The Heidi Adventure Trail starts at Heidi Village. It takes hikers 1¾ hour to reach the Heidi Alp (Ochsenberg). The story of Heidi is narrated in a playful manner on 12 illustrated markers along the trail.
Explore Alpine castles
Fénis castle – Aosta, Italy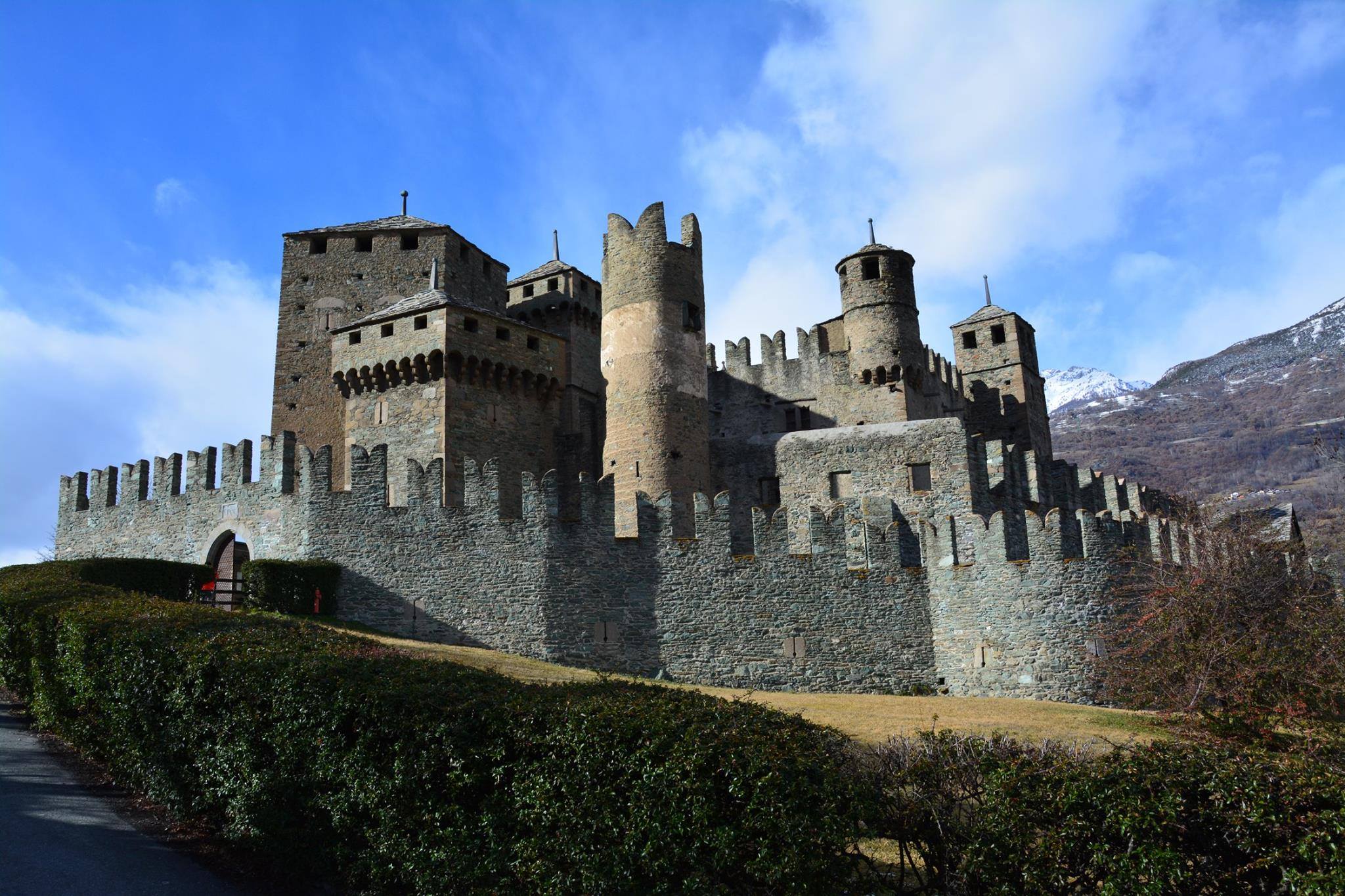 Conveniently situated along the main thoroughfare between Brueil Cervinia, the Italian side of the Matterhorn, and Aosta, Fénis castle is one of the most famous in the valley. Built in the mid-14th Century, the castle features many towers and served as both a defensive structure and home of the Challant family.
Château de Gruyères – Switzerland
If you're heading to and from Geneva and Interlaken at some point during your summer Alpine adventures, be sure to make a detour to check out Château de Gruyères. Situated amongst spectacular peaks, the castle was constructed in the 13th Century and was home to a succession of Gruyères. These days, the castle serves as a museum and popular tour stop.
Menthon-Saint-Bernard – Switzerland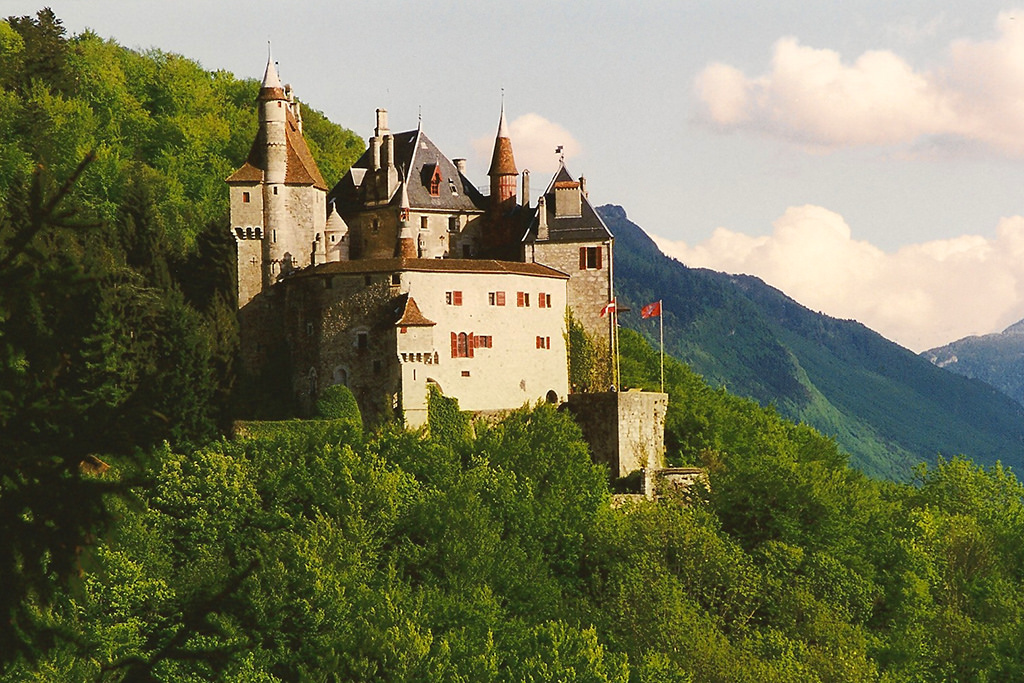 Rumor has it that Walt Disney based his animations of Sleeping Beauty's castle off of the incredible Savoyard architecture. Featuring 105 rooms, the same family has occupied the castle for more than 1,000 years, but 200 people are permitted entrance daily for guided tours. In fact, Saint Bernard, the same man who the dogs and the high pass are named after, was born in the castle in 1008, but fled the day before his wedding to become archdeacon and eventual saint.
Climb Alpine via ferrata routes
Translated from Italian "via ferrata" means "iron roads" and were originally built during World War II as supply routes through the challenging Alpine terrain. The protective climbing routes feature iron rungs connected by steel cable and provide incredible views. Many original routes are still intact, but purpose-built recreational routes have also been established around Alpine ski resorts in the last couple decades.
Engleberg, Switerland via ferratas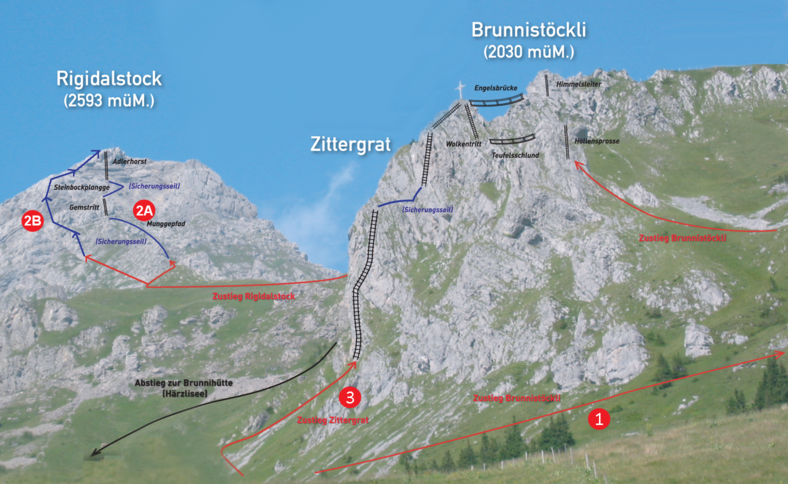 Engelberg is a paradise for Alpine adventures and features six via ferrata routes, four of which are based in the Brunni ski area. Families and beginners will enjoy the 1.25-hour Brunnistockli, which is rated light, while the more seasoned climbers will like the medium Rigidalstockgrat or difficult Rigidalstockwand, both of which take about 4+ hours. The ultra-fit and well-versed will enjoy the "very difficult" but short route, Zittergrat.
Take up the Montenvers train station to the Mer de Glace stop and then traverse the Mer de Glac glacier and take Echellets up to the refuge Couvercle. The route will take four to five hours and features lots of ladders. You should be in good physical condition for the Mer de Glace Via Ferrata.
Saix du Tour – Avoriaz/Morzine, France
Located a stone's throw from Avoriaz, the Saix du Tour is great because the first portion is ideal for families and the second portion is for those up for a serious challenge. At one point in the second section, the passage leads to a beautiful rock outcropping, the Balcon du Lac.
Ski Alpine glaciers
Matterhorn Glacier Paradise – Cervinia, Italy/Zermatt, Switzerland
The interconnected ski areas of Cervinia and Zermatt also share a glacier. From June to September, 14 miles of glacier skiing is accessible from either country. Plateau Rosa Gravity Park is the highest in Europe and offers features for all levels, including a halfpipe. At the top of the Matterhorn Glacier Paradise dining is elevated to new heights in the newly renovated restaurant and the Glacier Palace offers snow tuning and an ice sculpture exhibit.
Allalin glacier – Saas Fee, Switzerland
Located at 11,811 feet, the Allalin glacier is accessed via cable car and funicular and offers 12+ miles of skiing and two terrain park lines and a superpipe.
Stubai Glacier – Innsbruck, Austria
Austria's largest glacier offers 1,450 hectares of slopes and 38 miles of groomed slopes. Summer glacier skiing on Stubai is open from July 9 to September 4.
Grand Motte – Tignes, France
Take the funicular train from Val Claret to access 12 miles of glacier skiing, including a terrain park. Open June 25 to August 7.
Mountain bike the Alps
Portes du Soleil, Switzerland/France
Much like its ski offerings, the massive Portes du Soliel interconnected resort system provides a limitless amount of mountain biking trail and route choices and types. As well as the opportunity to explore a laundry of list of villages and hamlets on your bike. Here's a look at Portes du Soleil's mountain biking by numbers:
Mountain bikers can explore 650 kilometers (404 miles) of trail spread out over the domain's 12 ski resorts.
In the summer months 22 lifts are running for bikers' uphill convenience.
Downhill biking enthusiasts have 50 trails to choose from.
All-mountain explorers can experience a 70-kilometer-long (43-mile-long) trail.
22 mountain biking schools offering instruction guiding.
29 rental and repair shops.
Chamonix, France
A cross-country mountain biker's haven, Chamonix's proximity to Switzerland and Italy provide opportunities to bike multi-day routes, tack-on mountain bike trips to nearby ski resorts and plenty of downhill, intermediate and beginner riding. Below are some of Chamonix's mountain biking highlights:
Endurance aficionados will love the five-day, spectacular Tour de Mont Blanc.
Lift-accessed trails and cross-country routes in Verbier, Megeve, Courmayeur and Aosta/Pila are all within close driving distance.
Downhill bikers will not be disappointed with Chamonix's gravity-friendly trails, which are accessed via The Les Houches, Le Brevent, Flegere, Le Tour and Les Grands Montets cable cars.
Beginners and intermediates have plenty of trail options down in the valley on the river l'Arve.
Verbier, Switzerland
Providing access to 200 kilometers (124 miles) of varied trails, an 8-hour-long advanced cross-country route, the famed four-stage Grand Raid or Alpine Valais Bike route and its own downhill mountain bike park, Verbier is definitely a favorite mountain biking destination in Europe. Here are some don't-miss trails and routes:
The aforementioned 60-kilometer (37-mile) cross-country march, called the Tour du Mont Fort, may sound daunting even for an experienced mountain biker, but the views are well worth the effort. Plus, it features 3,112 meters (10,210 feet) of vertical descent.
Beginners have several easy, 40-minute routes on Jeep roads that provide the perfect introduction to the sport.
Jungfrau/Grindelwald, Switzerland
The 160 kilometers (100 miles) of mountain bike trails in the Jungfrau Region provide pedalers with plenty of cross-country routes. Those looking for descents can enjoy uphill access via the region's many trains and cable cars which can take the strain out of many a climb. Here are some recommendations for mountain biking in Grindelwald/Jungfrau:
"Marathon Routes" or dirt-road routes, are plentiful from Grindelwald's First Gondola.
Uphill-enthusiasts can ride 1,200 meters (3,937 feet) from the valley floor to Kleine Scheidegg. The downhill experience is worth the slug as mountain bikers can ride the World Cup Lauberhorn downhill via singletrack trail.
Unfortunately, bikes are not allowed on the famed Jungfraujochbahn, the train which brings tourists to the "Top of Europe" or the Eiger. Regardless, head up the famed train to experience unforgettable views and a historic engineering marvel.
Alpine train rides
Reaching a top elevation of 10,134 feet, the famous Gornergrat Bahn (train) is the world's first fully electrified cog railway and has been a top Switzerland attraction since 1898. Open year-round, the Gornergrat also provides a great viewing platform. Wild ibex are often spotted from the Gornergrat summit, and the area is a great starting point for many hikes.
Known "Top of Europe" train, the world-famous Jungfraujoch's is situated at 11,328 feet and provides unbelievable views of the Eiger and Monch peaks. Open 356 days a year, the Jungfraujoch also accesses a fine-dining restaurant. Starting from Klein Scheidegg, the journey to the top takes about an hour.
Glacier Express – St. Moritz to Zermatt
Connecting two mountain resort towns, St. Moritz and Zermatt, the Glacier Express dates back to 1930 and has long been lauded as one of the most scenic train rides in the world. During the 7.5-hour trip, the train crosses 291 bridges, 91 tunnels and over the spectacular Oberalp Pass.
Alpine lakes
Located in between the Thun and Brienz Lakes, Interlaken is beautiful mecca for summer watersports as the Bernese Oberland Alps, specifically the Eiger, Monch and Jungrfrau peaks rise above the clear waters.
Lake Thun
Lake Brienz
Eibsee Lake, Garmisch-Partenkirchen, Germany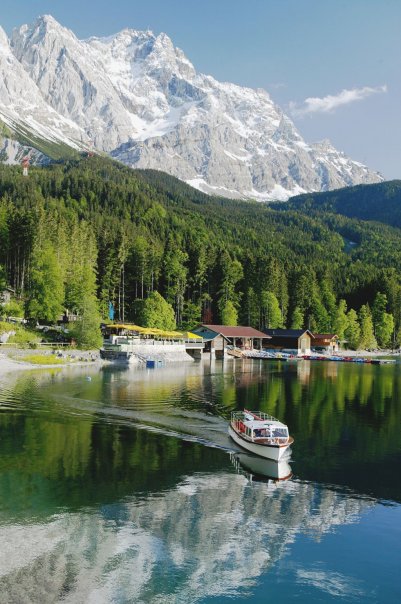 Located just five miles from Garmish-Partenkirchen at the base of the Zugspitze, Eibsee Lake is truly stunning and offers many opportunities for quiet exploration both around the shore on its strikingly blue waters. It's even possible to hop on a direct train to the lake from Munich.
Lucerne, Switzerland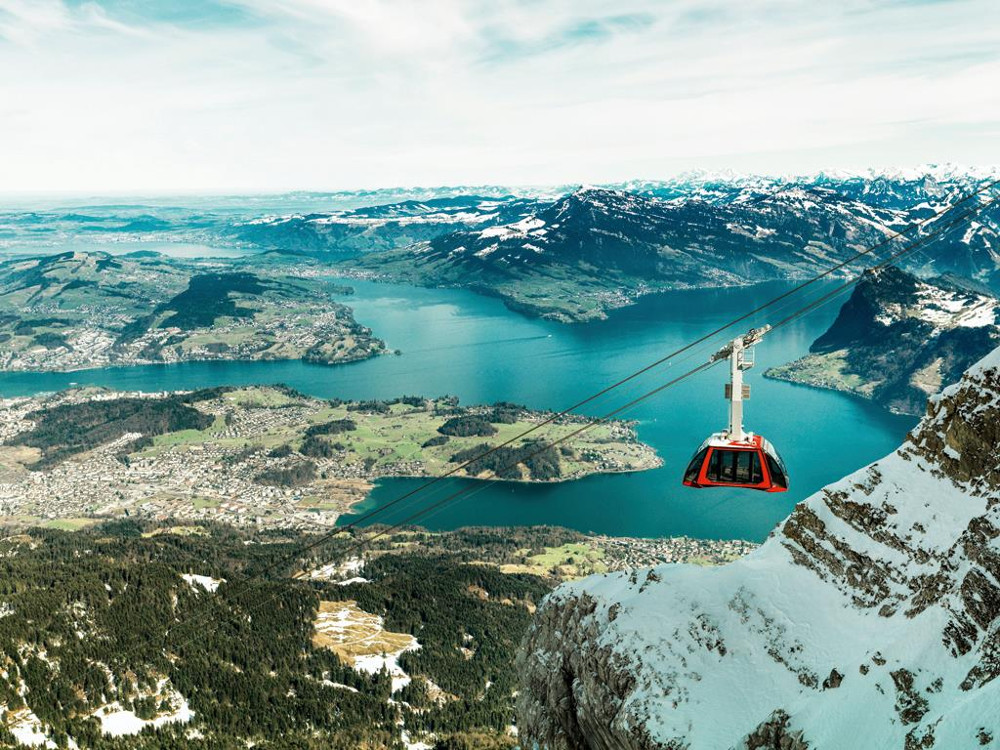 There are great opportunities for ferry and boat outings, as well as swimming in Lake Lucerne. Plus, the picturesque body of water is just an hours' drive from Engleberg Titlis. The ancient villages and hamlets along shore, most notably Küssnacht, Weggis, Vitznau, Gersau, Brunnen, Altdorf, Buochs, and Treib, are some of the oldest communities in Switzerland and an afternoon exploring these sites is highly recommended.
Lake Geneva, Switzerland/France
Situated in two countries, Lake Geneva's crystalline waters have attracted summer holiday makers for thousands of years. These days, jet skiing, boating, paddleboard, kayaking and boating abound. The lake is also a perfect place to launch even more Alpine adventures. The Chablais Alps border is its southern shore, the western Bernese Alps lie over its eastern side, and the high summits of Grand Combin and Mont Blanc are visible from some places.
Lake Como, Italy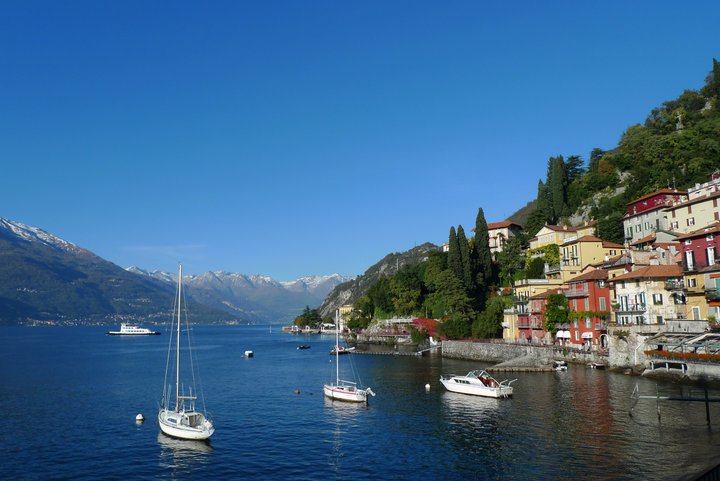 This spectacular Italian gem has been a holiday spot of the wealthy as far back as ancient Roman times, and you can understand why. The snow-capped peaks, lush vegetation, turquoise waters and colorful homes and hamlets makes for stunning scenery.