Colorado is home to 54 peaks over 14,000 feet, which are coined "14ers." These peaks are the tallest in the Lower 48 and beckon locals and visitors alike to stand at their summit and enjoy the views. For a first-time 14er hiker, proximity to a central hub and/or an easier route is key. So we've comprised a list of the best Colorado 14ers that tick off those boxes. Trust us. Bag one 14er and you'll likely be hooked and want to summit many more or even all 54.
Mt. Elbert – 14,433' – Class 1-2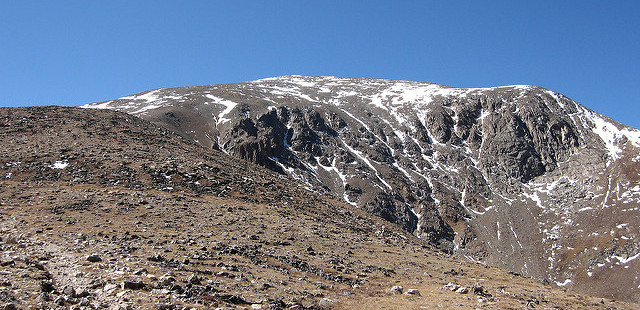 Located on the eastern side of Independence Pass near Aspen, Colorado
Surprisingly, Colorado's highest 14er peak is also one of the easiest to access. The Mt. Elbert summit can be reached via several trails, which climb 4,100 to 5,300 feet in 4.5 to 5.5 miles. The trails are well-maintained making the trek less treacherous than many other 14er climbs. From the top, hikers enjoy spectacular views of the Sawatch Range, Collegiate Peaks and Twin Lakes below.
South Mt. Elbert Trailhead: From Highway 82, turn right on 24 Road if coming from Leadville and turn left if coming from Aspen. Drive 1.2 miles to the main trailhead parking if you have a 2WD vehicle, 4WD vehicles can continue for another 1.8 miles to the upper trailhead. Campsites are available in this area.
North Mt. Elbert Trailhead: South of Leadville, turn onto Colorado 300 and take a left onto County Road 11. After driving 1.2 miles, turn right onto Halfmoon Creek. Drive 5 miles on dirt road to the Mt. Elbert trailhead on the left.
Capitol Peak – 14,130' – Class 4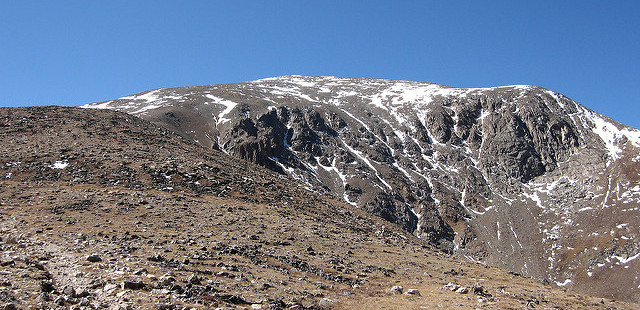 Located near Aspen, Colorado
Rated among some of the most difficult-to-summit peaks, Capitol rewards masochists with exhilarating exposure on a knife-edge ridge, moderately tricky route finding and an 18-mile roundtrip. Albeit long, the approach is a treat, as it winds through spectacular aspen groves and wildflower fields until Capitol Lake, where the real challenge begins.
Trailhead: From Highway 82, turn onto Snowmass Creek Road and drive 1.7 miles to a junction. Take the right onto Capitol Creek Road and continue for 6.4 miles until the road turns to dirt. Park in the horse-trailer lot if you have a 2WD vehicle, if you have 4WD continue until you've reached the trailhead.
Pyramid Peak – 14,018' – Class 3-4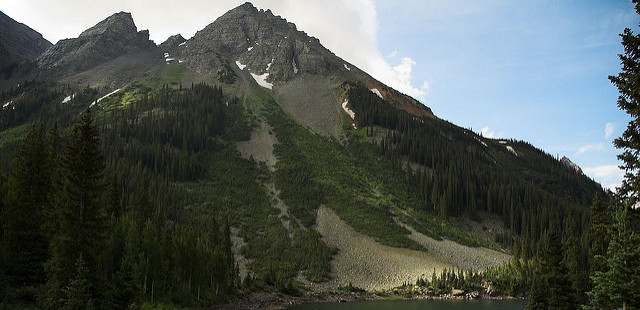 Located near Aspen, Colorado
If you've skied Aspen Highlands or mountain biked or hiked to the top of Buttermilk, you know how spectacular Pyramid Peak looks from afar, but up close it's even more stunning. Despite its rugged appearance, Pyramid is an easier ascent than some of its neighbors, i.e. the Maroon Bells and Capitol Peak. At the summit, you're treated to breathtaking views of the Elk Mountains, including the surrounding 14ers. The 8.25-mile roundtrip requires 4,500' of gain.
Trailhead: Unless overnighting in the Snowmass-Maroon Bells Wilderness, you'll want to park at Aspen Highlands base area and take a bus to Maroon Lake where the route begins. Take the Crater Lake Trail and then turn left at the Pyramid Trail.
Maroon Peak – 14,156' – Class 3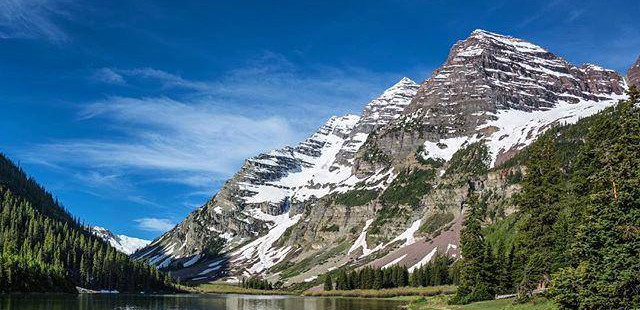 Located near Aspen, Colorado
The Maroon Bells are most photographed peaks in Colorado and also among the most summited 14ers, although the uninitiated or those who prefer less exposed routes, might want to consider a different peak. There are loose rocks throughout the trek and hikers should be on the lookout for falling debris. There are several routes, but the South Ridge is the easiest, albeit longest. The 11.5-mile roundtrip requires a gain of 4,800 feet.
South Ridge Trailhead: Start from Maroon Lake and take the Crater Lake Trail to start the trek, which continues to the West Maroon Creek Trail until finally reaching the Maroon Peak Trail. Take that to reach the South Ridge.
San Luis Peak – 14, 014' – Class 2

Located near the towns of Gunnison and Crested Butte, Colorado
Situated in a remote pocket of the stunning San Juan Mountains, San Luis Peak is a top-of-mind choice because of its lack of crowds and vibrant wildflower meadows. In addition, the summit is quite easy to navigate and rewards hikers with spectacular views devoid of man-made infrastructure and buildings. The trek features 3,600 feet in gain and a 13.5-mile roundtrip.
Northeast Trailhead: Take U.S. 50 to Colorado 114, east of Gunnison. On 114, drive 20 miles and turn right onto NN-14 Road. Drive 6.8 miles to Dome Lakes and turn right onto 15-GG, a dirt road. Stay left at junction. Drive another 15.6 miles and then follow signs for Steward Creek trailhead.
Pikes Peak – 14,110' – Class 2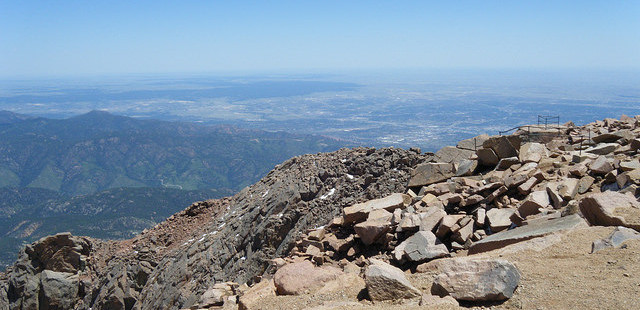 Located outside of Colorado Springs and near Denver, Colorado
Popular due to its proximity to several Front Range cities, Pikes Peak is the giant that looms over the plains, calling to adventurers. The Northwest Slope, which starts from Crags Campground, is recommended as it cuts the length by about half, which still totals 14 miles. But it's worth the effort, as the 4,300-foot ascent yields see-forever views of the plains and cityscape to the east, the foothills of the Rockies to the north and south, and thousands of peaks to the west.
Northwest Trailhead: Take U.S. 24 to Divide, and turn south onto Colorado 67 and drive 4.1 miles. Near a ranch turn left onto a dirt road and follow it for 3 miles to the trailhead. If camping at Crags Campground continue another .3 miles.
Mt. Holy Cross – 14,005' – Class 2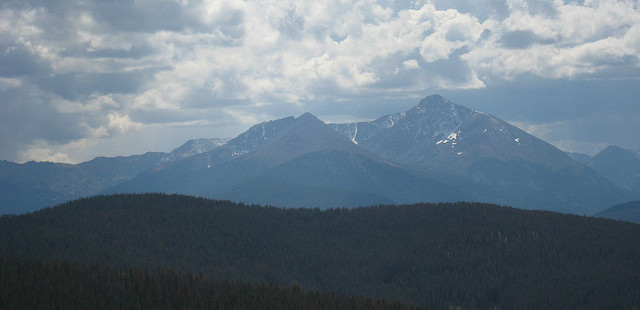 Located near Vail and Beaver Creek, Colorado
If you've ever skied in Vail's Back Bowls, you've probably noticed the imminent peak due west. That's Mt. Holy Cross and it's just as gorgeous from its summit as from afar. The 12-mile roundtrip trek along the North Ridge winds through the Holy Cross Wilderness area through cool pine forests, next to alpine streams and eventually to breathtaking, above tree-line fields. The trail is well marked and well maintained, although it's important to follow the same route back to the North Ridge.
North Ridge Trailhead: From I-70, take Exit 171 and follow U.S. 24 and drive five miles before turning right onto the Half Moon (Tigiwon) Road. Drive for 8 miles to the trailhead.
Uncompahgre Peak – 14,309' – Class 2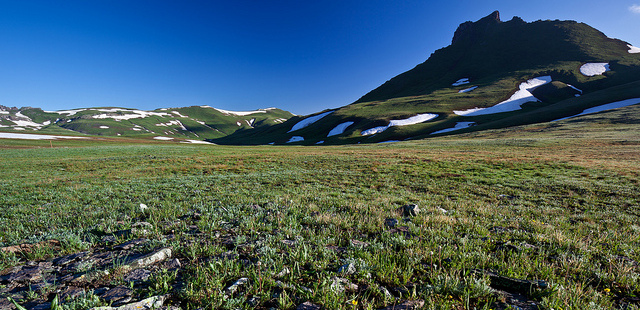 Located near Telluride, Colorado
Hike through lush high-alpine meadows and take in colorful wildflowers in route to the summit of Uncompahgre's unique, ship-like summit. Located in the San Juans, Uncompaghre is particularly special because of the abundant rainfall the area receives, which makes for lots of healthy, green vegetation even at very high elevations.
Trailhead: Start from Nellie Creek, located five miles outside of Lake City (about 1.5 hours from Telluride), and ascend 3,000 feet over 7.25 miles to the 14,309-foot summit. You'll want a 4WD vehicle to access the upper trailhead, located four miles up the Nellie Creek road, which cuts off the trip by about half. Otherwise, you'll be ascending 5,505 feet over 15.25 miles.
Mt. Sneffels – 14,150' – Class 2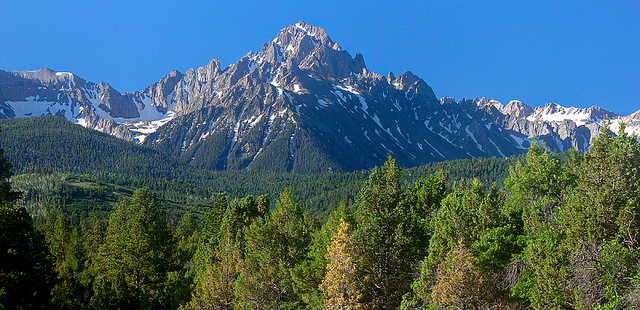 Located near Telluride and Ouray, Colorado
The beauty of Mt. Sneffels, in addition to the actual scenery, is that it's by far one of the quickest to summit. If starting from the upper trailhead, you're only looking at 1,700' of gain and a 2.50-mile roundtrip. Before or after the trek, set aside some time to check out the Sneffels ghost town.
Yankee Boy Basin Trailhead: Take U.S. 550 to Ouray and .25 miles south of town, turn west on Country Road (CR) 361, a dirt 2WD road. Stay right on CR 26 for about seven miles. Take right onto 853 1B. The remaining drive to the upper parking lot requires a 4WD vehicle.
---
Book your first Colorado 14er trip today! Our Summer Mountain Travel Specialists are standing by for your call at 800-556-7547. They can answer your questions and help you book everything from flights and ground transportation to 4WD vehicle rentals and lodging to match your budget and preferences. You can also get started by filling out a form for a free, custom quote.